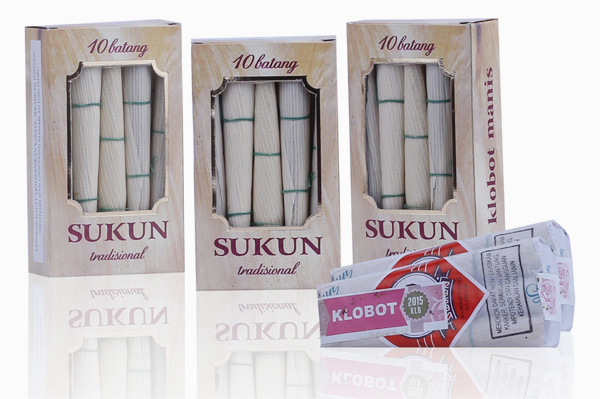 Traditional Sukun of klobot
Since it was founded until now, PR Sukun keeps producing klobot cigarettes. The first klobot cigarette production of PR Sukun was done by less by than 10 people. At that time, cigarettes were still a home industry production. The amount of production at that time was around 2,000-5,000 cigarettes/day.
The first cigarette brand released by PR Sukun at that time was Siyem. Mc Wartono, the founder of PR Sukun, did advise his successors to maintain the production of klobot cigarettes. And furthermore, he instructed them not to lay off the employees who are in charge to roll the klobot cigarettes until the employee himself wants to resign. These are done to show respect and appreciation for employees who are considered to have contribution of raising the company.
Based on that policy, it is not surprising that recently, PR Sukun is the one and only cigarette company in Kudus that still produces klobot cigarettes. Onthe national level, PR Sukun is one of four national cigarette companies that still produce klobot cigarettes. The other three cigarette companies are PT Gudang Garam Kediri, PT Bokormas Mojokerto, and PT Ongkowijoyo Malang.
In recent 5 years, the klobot cigarettes in PR Sukun has been produced for the average of 20,000 cigarettes /day with the declining number of employees to the remaining 50 people as a natural process. Klobot cigarette product of PR Sukun with a package consisted of 6 cigarettes is sold with RSP (retail sale price, Red) Rp. 1,400 /package.
The development of klobot cigarettes did decrease nationally after 1950, where the development of the kretek cigarette industry has been shifted to cigarette paper (usually called papir). The development of machine-rolled, filter kreteks (SKM) in the 1980's has made klobot cigarettes get marginalized.
However, the consumers of klobot cigarettes are not completely gone. Until recently, the demand of klobot cigarettes still exists although it keeps decreasing naturally. Klobot cigarette product of PR Sukun is commonly consumed by people who live in coastal area (fishermen) and in mountain area (farmers), especially in Central Java and East Java. Those who still enjoy klobot cigarettes until now have said that klobot cigarette is not easily damaged, especially if it is exposed to water. If the flame goes out, klobot cigarette still has a good flavor when set alight again. (*)